Abit of history
In Australia, the 25h of April is one of the most important occasions.This is the day that marks the anniversary of the first major military action fought by Australian and New Zealand forces during the First World War.
One of the traditions is to make or eat ANZAC biscuits and these have long been associated with the Australian and New Zealand Army Corps (ANZAC) established in World War I. It has been claimed the biscuits were sent by wives to soldiers abroad because the ingredients do not spoil easily and the biscuits kept well during naval transportation.
This year I made some with my son and he was so excited because he had just learnt about ANZAC day at school the day before.
IGREDIENTS
120g butter
100g honey
1tsp bicarb soda
150g plain flour
100g rolled oats
50g brown sugar
50g desiccated coconut
70g peanut butter (smooth or crunchy)
METHOD
Preheat oven 160deg and line a baking tray

Place butter and honey in a microwave safe dish and melt for 1 minute

Add bicarb and peanut butter and stir to mix

Add dry ingredients and wet ingredients to a food processor and mix well (I used a thermomix but anything works)
Place small spoonfuls of mixture onto prepared tray and flatten leaving space between.
Bake for 10 minutes until golden brown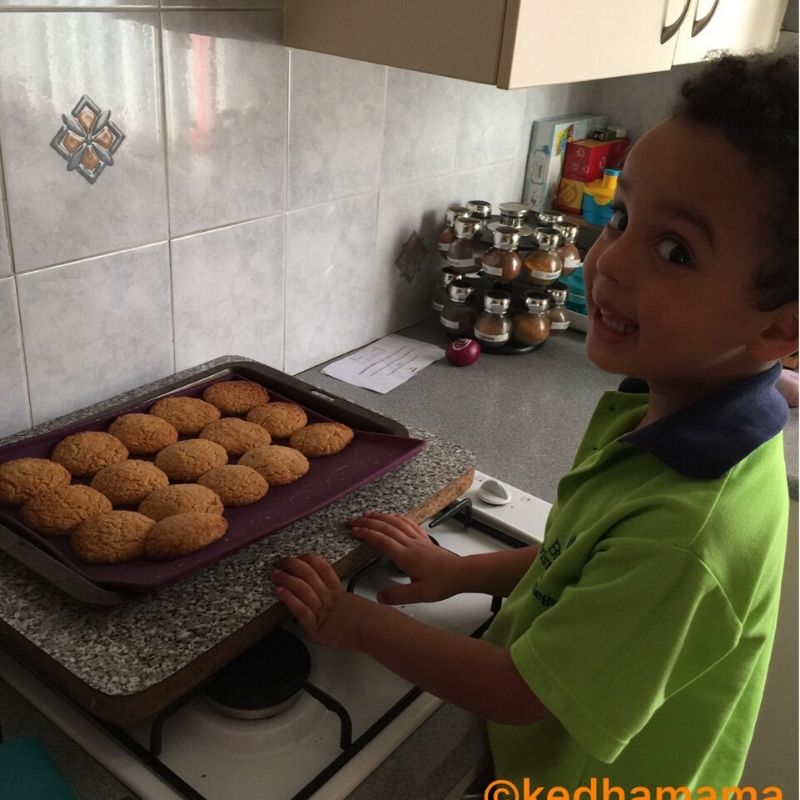 Leave to cool and place in an airtight container
*  I used peanut butter for a change and they were a winner. I love my peanut butter and will add it to anything that works.